Foam Board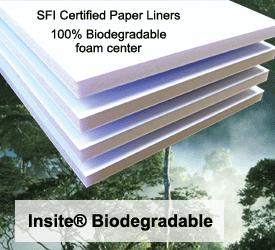 New from
Gilman
Looks, acts and is used just like all foam boards. Only made with "Bio resins" to insure it breaks down when disposed to eliminate 90% of the disposal volume. A responsible choice. Features:
►Ultra smooth ►Warps less
►Bright White SFI Papers ►Cost effective
► Check out our self-stick Biodegradable Boards with Seal's Eco mount Adhesives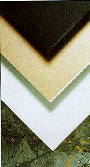 White 3/16" thick
24"x36"(10) $145
Adhesive Coated 24"x36"(10) $215
Black, Natural and 1/2" widths in stock
Available Plain or with Adhesive Coating
Choose from many Cut Sizes
Our most durable foam board. Foam board with high impact plastic styrene surface. Hard plastic shell keeps board from warping and is super smooth. Great for photo mounting and high end displays.
Solid PVC Boards Komatex, Sintra brand pvc sheet. Hard and resistant to moisture. We stock both 3mm and 6mm thickness.

Corrugated Plastic An economical way to create outdoor signs. We stock 4mm white Coroplast - the industry standard. Sign holder and others accessories in stock too.