Laminating Accessories
Items to Display, Protect & More
Web Sale - Orders over $250 Ship UPS Ground FREE!
Boards up to 32"x40" Continental USA only
---
---
Display Your Prints


Ready to Use Gator Boards are sturdy enough to stand up to harsh conditions. The wood-based surface is stronger than the foam core and keeps the board flat. The foam core keeps the board lightweight. Gator is a great choice for displays stand the test of time.
Graphic Holders for Many Needs
A-Frame Stands for outdoor use
Stylish Curvette Floor Stands
Acrylic Print Holders for wall displays
Self-stick easel backs for counter-top displays
Protect your Prints
Make sure your finished mounts get to their destination is pristine shape. Our Corner Protectors keep corners from getting dented and make sure the first impression of your hard work is a good impression. Choos from Corner Protectors for 3/16", 1/4" 1/2" and 1" thick boards.
Keep your laminator & boards clean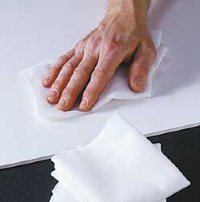 Dirt and dust are a major enemy of professional mounts. The smalles spec can ruin a display. We have cleaning materials here to help keep your laminator and boards clean when mounting so that your finished work always looks its best.